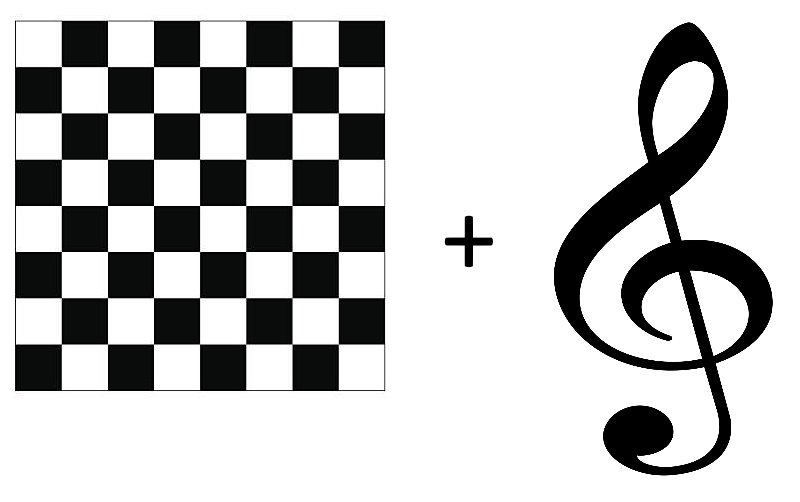 This article examines connections between the game of Chess and the art of Music.
The two main topics/connections covered currently are:
Terms used in both Chess and Music
An annoted list of Musical Compositions Related to Chess
Musical Terms that are Used in Chess
The Oxford Companion to Chess is a comprehensive encyclopedia of chess.
It contains articles on history, terminology, chess players, and the relationship between chess and other subjects such as music, art, theater, literature and philosophy.
Many of the terms listed in this book are also musical terms.
For example, in chess, a person who creates puzzles and problems to be solved is called a composer, and two different sequences of moves that lead from one given position to another are said to be related by transposition.
Some other terms that are used in chess and music are:
play
piece
notation
score
tempo
theme
variation
development
minimal composition
round
major and minor
position
second
retrograde
mirror
attack
anticipation
phase
echo
Musical Compositions Related to Chess
This is a list of pieces of music that are related in some way to the game of chess.
There is no doubt that many of the pieces listed here bear only a distant (or unknown) relationship to chess.
For example, it is likely that in some cases the only connection is that the word chess was used in the title of the piece.
All known relationships are described in the annotations.
Absil, Jean. Chess Game, Suite for Piano, op. 96.
A recording of this piano piece is available on the album titled L'Oeuvre pour piano (Alpha DB 57).
Anderson, Jon, and Chris Squire 1971. I've Seen All Good People.
This is a song that is on the album titled The Yes Album by the band called Yes that consisted of Jon Anderson (vocals), Chris Squire (bass and vocals), Tony Kaye (keyboards), Bill Bruford (drums), and Steve Howe (guitars and vocals).
The song has two sections titled Your Move and All Good People. The lyrics of Your Move are related to chess.
There is an analysis of this song on pages 78-81 in the book Music of Yes: Structure and Vision in Progressive Rock (published by Open Court Publishing Company 1996), by Bill Martin.
Andersson, Benny, Björn Ulvaeus, and Tim Rice 1984. Chess.
Chess is a musical written by Benny Andersson (music), Björn Ulvaeus (music), and Tim Rice (lyrics).
The game of chess serves as a symbol of the cold war between the USA and the Soviet Union.
Tim Rice's idea for the musical was inspired by the World Championship match of 1972 between Bobby Fischer and Boris Spassky.
Bennett, Ray 1973. None the Wiser (King); Farewell Number One (Pawn); Man of Honour (Knight); Dead Ahead (Queen); Bishop.
These are five songs that are on the album titled Out of Our Hands (1973: Capitol SMAS-11218 (US), Sovereign SVNA 7260 (UK); 1993 One Way CD S21-17414) by the band called Flash that consisted of Peter Banks (guitar), Ray Bennett (bass), Colin Carter (vocals), and Mike Hough (drums).
Bliss, Sir Arthur, and Ninette de Valois 1937. Checkmate.
This work is a 50-minute ballet in one scene that was composed by Sir Arthur Bliss and choreographed by Ninette de Valois.
It was performed at the Paris World Exhibition.
The moves of the pieces influence the form of the dancing.
Cage, John 1943. Chess Pieces.
In the John Cage Music Manuscript Collection of The New York Public Library for the Performing Arts there is a folder of 13 pages of handwritten music (plus one cover page) by John Cage that contains a work titled Chess Pieces (call number: JPB 95-3 Folder 109).
This work (which might be for piano) appears to be of the form: aabbddeefga agfeeddbbaa.
Note that the form of the second half of the piece is a mirror image of the first half.
Eleven 12-bar sections have been written.
Perhaps these eleven sections are to be used as the eleven sections of the first half of the piece.
Mirror images are also used for smaller structures. For example, the 12 bars of the first two "a" sections are grouped as 3 bars, followed by 4 bars, followed by 5 bars (i.e. 12=3+4+5).
The 12 bars of the first "b" section are grouped as 5 bars, followed by 4 bars, followed by 3 bars (i.e. 12=5+4+3).
This piece may be unfinished.
It is unclear whether or not Cage intended to write eleven more sections for the second half of the piece or if the eleven sections that have been written are to be played in reverse order for the second half.
It is not known how this piece is related to chess. There are many open questions:
Why is the structure of the piece based upon mirror images? Do these mirror images represent the mirror image of the arrangement of white and black pieces at the beginning of a game?
Why are there 6 different section types (i.e. a, b, d, e, f, and g)? Is there a one-to-one correspondence between the section types and the 6 chessman types (e.g. a=pawn, b=rook, etc.)? Or, should the form be written as a2b2d2e2f1g1a1? This representation of the form suggests that the form may have been derived from algebraic notation of a particular game.
Why are there 11 sections in each half of the piece?
Why do all sections consist of 12 bars?
How were the pitches selected for this piece?
Cage, John 1968. Reunion.
This piece was performed in 1968 at Ryerson Polytechnic in Toronto.
Lowell Cross constructed a chess board equipped with photoreceptors that served as a gating mechanism to transmit or cut off sound produced by other musicians and to control lights.
John Cage and Marcel Duchamp played a game of chess. Other participants included Teeny Duchamp, David Tudor, Gordon Mumma, and David Behrman.
The book Marcel Duchamp and John Cage by Shigeko Kubota (1970) contains photographs and a recording of this performance.
Chopinet 1990. Ana.
This piece is a ballet (choreographed by Chopinet) that is based on Lewis Carroll's Through the Looking Glass.
It has a specially created game of 73 moves as its text.
Source: The article "Theatre and Chess" from The Oxford Companion to Chess by David Hooper and Kenneth Whyld (1996).
Clément, Murielle Lucie 1996. Sketches of Chess.
This work is a short opera for 2 sopranos and a chessboard.
The libretto is based upon a chess game between Ljubomir Ljubojevic and Garry Kasparov in 1987 at the Swift Blitz tournament in Brussels.
Ljubojevic defeated Kasparov in this game and tied Kasparov for first place in the tournament.
Cohen, Marcia 1971. Chess Set: for Percussion and Electronic Tape.
The score and a recording of this work are available at the University of Central Arkansas Library (call numbers: M175.C65 C45 Score and M175.C65 C45 Tape).
Cruft, Adrian 1986. Chess Pieces (for Trumpet and Piano). London: Joad Press.
This 10-minute work is composed of 5 short pieces: Knights (1-1/4 min.), Rooks (Castles) (1-3/4 min.), Pawns (1-1/2 min.), Bishops (2-1/2 min.) and Queens & Kings (3 min.).
The journal British Music contains and article edited by Jack Denford in which Cruft talks about his music (see volume 11, 1989 and volume 12, 1990).
Eberwein 1819. Das Schachturnier (Le tournoi aux échecs).
This work is an opera. It may be incomplete.
Source: The article "Music and Chess" from The Oxford Companion to Chess by David Hooper and Kenneth Whyld (1996).
Hanson, Sten 1979-85. John Carter Songbook.
The John Carter Songbook is a collection of examples of Martian music by the Swedish composer Sten Hanson.
The fourth piece in the set is titled "The Chessmen of Mars".
This is a musical model of a Martian chess game called Jetan which is played on a board that contains 100 squares and 20 chessmen per side.
A sound is associated with each man and a pitch is assigned to each row of squares.
Panning is used to distribute the squares of the chessboard.
Harvey, Richard, Brian Gulland, Graeme Taylor, David Oberlé and Philip Nestor 1974. Red Queen to Gryphon Three.
This work is an album by the band called Gryphon that consisted of Richard Harvey (keyboards, recorders, krumhorn), Brian Gulland (bassoon, krumhorn), Graeme Taylor (guitars), David Oberlé (drums, percussion, timpani) and Philip Nestor (bass guitar) with Ernest Hart (organ) and Pete Redding (acoustic bass).
The album consists of 4 instrumental pieces: Opening Move (8:15), Second Spasm (9:42), Lament (10:45) and Checkmate (9:50).
Johansson, Mats 1997. Holistic Medicine.
This is a 15-minute song on the album titled MIND Volume 1 (Svenska Unikum SUCD 197) by the band called Isildurs Bane consisting of Klas Assarsson (percussion), Jonas Christophs (guitar), Fredrik Emilson (bass), Joachim Gustafsson (violin), Mats Johansson (keyboards), and Kjell Severinsson (drums and percussion).
Throughout the song, the moves of a chess game are recited, beginning with "Pawn to king four", "Pawn to queen's bishop four" and "Knight to queen's bishop three".
Kapr, Jan 1972. Chess Sonata for Two Pianos, or piano and magnetic tape with the part of 2nd piano.
This 18-minute piece is intended for two pianos or one piano accompanied by a tape recording of the 2nd piano part.
Lacerda, Osvaldo 1971. Cromos: para Piano. Sao Paulo: Irmaos Vitale.
This work consists of four booklets of short pieces for piano. The third booklet contains a piece titled Jogando xadrez (Playing the game of chess).
A copy of the score and a recording are available at the Indiana University Library (score: temporary control number: ACK8572) (recording: call number: LAMC TP.B8 .L1317 K1.2).
Lewis, John. The Chess Game.
This piece is based upon J. S. Bach's Goldberg variations.
It is performed on harpsichord or piano, alone or together, in original form or in jazz interpretations.
The work has been recorded by John Lewis (piano) and Mirjana Lewis (harpsichord) (see: The Chess Game Phillips 832015 and The Chess Game Pt. 2 Phillips 832588).
MacLean, Dougie 1994. Marching Mystery. Dunkeld Records.
The song "Marching Mystery" on this album of songs by the Scottish songwriter Dougie MacLean was inspired by a set of ancient chess pieces found on the West coast of the Isle of Lewis.
This is mentioned in an article about MacLean (by Lahri Bond) that appeared in the October/November 1995 issue (No. 60) of the magazine Dirty Linen.
Madetoja, Leevi 1910. Shakkipeli (Chess Game).
This piece is a suite of four movements: Juhlamarssi (Festive March), Kansankarkelo (Popular Fête), Miekkatanssi (Sword Dance) and Menuetto (Minuet).
It was composed for the play called Shakkipeli by the Finnish poet Eino Leino.
Martinu, Bohuslav. Échecs au roi.
Source: The article "Music and Chess" from The Oxford Companion to Chess by David Hooper and Kenneth Whyld (1996).
Noel-Johnson, Reginald Charles 1953. Sinbad the Sailor on Ice.
This work is a ballet on ice composed by Reginald Charles Noel-Johnson.
The ballet includes a living chess performance of a famous friendly game between Paul Morphy and the Duke of Brunswick.
Source: The article "Theatre and Chess" from The Oxford Companion to Chess by David Hooper and Kenneth Whyld (1996).
Nyman, Michael 1986. The Man Who Mistook His Wife for a Hat.
This work is a chamber opera for soprano, tenor and baritone, with two violins, viola, two cellos, harp and piano.
It is based on a case study given in the book of the same name by Oliver Sacks in which a neurologist (Dr. S) diagnoses a patient (Dr. P).
Dr. P is a professional singer with a condition that causes him to misidentify objects that he sees.
For example, while visiting Dr. S, he mistakes his own wife for a hatstand.
During a house call, Dr. S and Dr. P play a game of chess; Dr. P plays mentally and wins easily.
Parmerud, Åke 1993. Jeux Imaginaires.
Jeux Imaginaires is a musical piece that is based upon the 22nd game of the 1992 World Championship match between Anatoly Karpov and Garry Kasparov.
The rhythm of the drums in the middle section was derived from the pondering times of the first 19 moves of the game.
The composer writes: "I like to think of musical components (soundobjects, phrases, structures etc.) as pieces (of chess) with different charge and strength that may be placed in a variety of relationships, and where the object of composing is that of finding solid constructions of relations throughout the whole musical time."
Rabaud, Henri 1927. Le Joueur D'échecs (The Chess Player) for Piano. Paris: Max Eschig.
This work is the music for the 135-minute 1927 film of the same name that was directed by Raymond Bernard.
A restored version of the film was released in 1998 and may be purchased from The British Film Institute.
The score for this piece is available at the The New York Public Library for the Performing Arts.
Reif, Paul 1965. Philidor's defense: a musical chess game.
A recording of this 13-minute piece for chamber orchestra is available on the album titled Two Contemporary Composers (Serenus Recorded Editions, 1967 – SRE 1018).
Rieti, Vittorio 1945. Chess Serenade: suite for two pianos. New York: Associated Music.
The score for this piece is available at the Cleveland Institute of Music Library (call number: M214.R447C).
Rorem, Ned 1973. Day Music: for Violin and Piano. New York: Boosey & Hawkes.
This work consists of 8 pieces: Wedges and Doubles, Pearls, Extreme Leisure (or the Gallows Revisited), Bats, Billet Doux, Another Ground, Yellows, and A Game of Chess Four Centuries Ago.
Sabouroff, P. P. Love Symphony.
The scherzo movement of this piece is labeled "Simultaneous games of chess". The piece was performed at Monte Carlo in 1925. Source:
The piece was performed at Monte Carlo in 1925.
Source: Harley, B. 1931. "Music and Chess." Music and Letters 12(3): 276-281.
Shorter, Wayne 1960. The Chess Players.
This song was recorded in 1960 on the album titled The Big Beat by the band Art Blakey and the Jazz Messengers that consisted of Lee Morgan (trumpet), Wayne Shorter (tenor saxophone), Bobby Timmons (piano), Jymie Merritt (bass), and Art Blakey (drums).
Simon, Ladislav 1971. Sachova Dama (Chess Queen), Blues for jazz orchestra.
This is an 8-minute blues piece for jazz orchestra.
Slick, Grace 1966. White Rabbit.
This song was recorded live in 1966 for the album titled Conspicuous Only In Its Absence (released 1968: Columbia CS-9624) by the band called "Great Society".
The band consisted of Grace Slick (vocals), Darby Slick (guitar), David Minor (guitar), Jerry Slick (drums), and Peter Vandergelder (bass).
Later, it was recorded for the album titled Surrealistic Pillow(released 1967: RCA LPM/LSP-3766) by the band called "The Jefferson Airplane" that consisted of Marty Balin (rhythm guitar), Jack Casady (bass), Paul Kantner (rhythm guitar), Jorma Kaukonen (lead guitar), Grace Slick (vocals), and Spencer Dryden (drums).
The third verse contains the lines: "When the men on the chessboard / Get up and tell you where to go".
The fourth verse contains the lines: "And the White Knight is talking backwards / And the Red Queen's off with her head".
Solare, Juan María 1986. Ajedrez I y II (Chess I and II) for voice and piano.
This piece is based upon a two-part poem by the Argentinean Jorge Luis Borges (1899-1986) titled Ajedrez from the collection "El Otro, El Mismo" (The Self and the Other).
Solare, Juan María 1992. Ben Oni for Flute, Clarinet and Violoncello.
The name of this 4-1/2 minute work matches that of the chess book Ben-Oni oder die Vertheidigungen die Gambitzüge im Schach, by Aaron Reinganum which was published in 1825 (see also: Benoni Defence).
Solare, Juan María 1996. Diez Estudios Escénicos (Ten scenic Etudes) for two actors, one actress, diverse objects and instrumental sextet: violin, doublebass, horn, bass clarinet, vibraphone and piano.
This 20-minute work consists of 10 scenes.
In the 5th scene (1-1/4 min.) which is titled Chessgame, the two actors pretend to play chess without the use of props.
They are accompanied by the violin and doublebass, the latter of which strains to play in unison with the violin.

Solare, Juan María 1999. Zugzwang (fifteen authentic miniatures about the strategy of chess) for quartet: violin (or flute), alto sax (or clarinet), double bass (or violoncello) and piano (or synthesizer).
This work consists of 15 extremely short pieces that have an average duration of 12.6 seconds.
The structure of each piece mirrors that of a particular concept or position in chess (e.g. Isolated pawn, Time-trouble, and Fianchetto).
The work is dedicated to the Grandmaster Lothar Schmid who served as chief arbiter for several World Championship matches (including Spassky-Fischer 1972, Karpov-Korchnoi 1978 and Kasparov-Karpov 1986).
The composer, Juan María Solare is also the author of several articles on various relationships between music and chess which have been published in the magazines Doce Notas, Letra Internacional, and Biblioteca de México.
Stravinsky, Igor 1913. Le Sacre du Printemps (The Rite of Spring).
In the book, Nicholas Roerich: Messenger of Beauty (published by Inner Trad 1994), Jacqueline Decter recounts a story of how Roerich offered Stravinsky two possible scenarios for a new ballet: "A Game of Chess" or "The Great Sacrifice".
Stravinsky chose "The Great Sacrifice" for what was to become Le Sacre du Printemps.
Stuermer, Wolfgang von, Dietrich Eichmann, Christoph Grund, Uwe Kremp and Reimar Volker 1987/1989. Game and Earnest.
This is a 60-minute piece for two players performing at a chessboard controller for samplers and synthesizers (16 modules) with additional live musicians on piano, turntables/electronics, guitars and saxophones.
The piece was performed on July 2, 1987 by the performance-duo consisting of Wolfgang von Stuermer and Dietrich Eichmann (under the name FIQ (Fraktion Illegaler Quomponisten)) with guests Christoph Grund, Uwe Kremp and Reimar Volker at the festival Belluard/Bollwerk in Fribourg, Switzerland.
A revised version of the piece was produced by the SDR (South German Radio), in 1989.
Waschka II, Rodney 1985. Euwe Suite.
This 15-minute work consists of five movements (Euwe-Colle 1926, Euwe-Alekhine 1935, Alekhine-Euwe 1937, Euwe-Najdorf 1954 and Moonen-Euwe 1981), each of which is based on a particular game of chess played by Max Euwe; a Dutch mathematician and World Chess Champion (1935-7).
Pitches were assigned to chessboard squares.
The melodies for a given movement were determined by the moves of the corresponding game.
For one movement, timbre was determined by the type of chess piece being moved.
A recording of this work, which was realized using a Synclavier II, is available on the album titled Cartography (Irida 0007).
White, John 1968. Cello and Tuba Machine.
For this work, which has also been referred to as Machine for Cello and Tuba, the notes played by the tuba were determined by the moves of a knight on a musical chessboard.
It was performed by John White (tuba) and Cornelius Cardew (cello) at Queen Elizabeth Hall on May 17, 1971.
Wright, Richard, and David Gilmour 1968. Pawn to King 5.
This work is a ballet that was performed by Ballet Rambert at the Jeanetta Cochrane Theatre in London on December 4-5, and 7, 1968 (music: Pink Floyd; setting: Michael Carney; choreographer: John Chesworth; lighting: John B. Read).
A copy of the performance program is available in the Cotton Collection of the Royal Holloway Library of the University of London.
? 1607. Ballet des Échecs.
This piece is the first known ballet with a chess theme.
It was performed for Louis XIV of France.